Welcome to National Carriers - the"Elite" Fleet®
NCI Company News
Check out our latest edition of the National Carriers Magazine!
Trailer Decals Educate Public on Water Safety In 2012 Brigadier General Thomas W. Kula visited the National Carriers, Inc. offices in Irving, Texas to place the first water safety decal on the rear doors of an NCI trailer. This joint venture between the U.S. Army Engineer Division and National Carriers was designed to promote water […]
National Carriers Enables Guardsman I always wanted to be a business owner and operator. I know about trucking and I've done trucking. I felt NCI Leasing was the best opportunity for me to see how it would be to own my own truck. I have leased truck #2653A since becoming involved in the lease […]
Overdrive Online
OIG Highway Admin
On December 17, 2014, state criminal complaints were filed in Bridgeport, Pennsylvania, charging ten individuals for their alleged roles in a widespread $1.2 million corruption and bribery scheme that affected 27 federally funded maintenance and construction contracts in Pennsylvania.
Posted: December 19, 2014, 5:52 pm
On December 11, 2014, Gregory Sclafani was indicted on wire and mail fraud charges by a federal grand jury in U.S. District Court, Central Islip, New York, for defrauding consumers after they scheduled auto shipments with Sclafani's company, AUSA Logistics.
On November 13, 2014, Sclafani was arrested by DOT-OIG Special Agents, U.S. Postal Inspectors, and the New York State Police.
Posted: December 19, 2014, 3:54 pm
On December 10, 2014, Elizabeth "Betsy" Pope, was sentenced in U.S. District Court, Pittsburgh, Pennsylvania. Pope, operator of Eastgate Laboratory Testing, a company that conducts drug testing for commercial vehicle operators and trucking companies in the Pittsburgh area was sentenced to 8 months house arrest, 4 years probation, and ordered to pay $109,000 in restitution. The sentencing followed Pope's July 2014, guilty plea, which stemmed from an April 2014 indictment on charges of fraud.
Posted: December 19, 2014, 3:45 pm
FMCSA News
… the public comment period, the
Federal
Motor
Carrier
Safety
Administration
will evaluate whether or not …
Posted: December 23, 2014, 4:19 am
… had been effect before the
Federal
Motor
Carrier
Safety
Administration
(
FMCSA
) revised those rules last year …
Posted: December 22, 2014, 8:36 pm
… hold last year's
Federal
Motor
Carrier
Safety
Administration
ruling that the 34 hours …
Posted: December 22, 2014, 8:12 pm
Yahoo® Truck News
National Weather
No watches are valid as of Fri Dec 26 22:02:01 UTC 2014.
Posted: December 26, 2014, 10:01 pm
No Mesoscale Discussions are in effect as of Fri Dec 26 22:02:01 UTC 2014.
Posted: December 26, 2014, 10:01 pm
SPC 2000Z Day 1 Outlook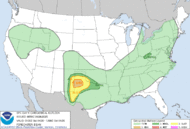 DAY 1 CONVECTIVE OUTLOOK  
NWS STORM PREDICTION CENTER NORMAN OK
0154 PM CST FRI DEC 26 2014

VALID 262000Z - 271200Z

...NO SVR TSTM AREAS FORECAST...

...SUMMARY...
ISOLATED TO WIDELY SCATTERED THUNDERSTORMS ARE EXPECTED TO DEVELOP
MAINLY TONIGHT FROM EASTERN TEXAS INTO THE LOWER MISSISSIPPI VALLEY.
NO SEVERE WEATHER IS EXPECTED.

MINOR CHANGES HAVE BEEN MADE TO THE 1630Z OUTLOOK...NAMELY TO
INCREASE THUNDER PROBABILITIES ACROSS PORTIONS OF SERN OK...JUST
WEST OF CURRENT PRODUCT.  LATE TONIGHT UNINHIBITED ELEVATED
INSTABILITY MAY ALLOW A FEW THUNDERSTORMS TO DEVELOP WITH CONVECTION
ROOTED ROUGHLY 1KM AGL.

..DARROW.. 12/26/2014

.PREV DISCUSSION... /ISSUED 1024 AM CST FRI DEC 26 2014/

...SYNOPSIS...
A HIGHLY AMPLIFIED LARGE-SCALE PATTERN WILL PREVAIL OVER THE CONUS
INTO EARLY SATURDAY. EMBEDDED WITHIN THE LONGWAVE TROUGH OVER THE
CENTRAL/SOUTHERN ROCKIES AND NORTHERN MEXICO...A LEAD SHORTWAVE
TROUGH AND MID/HIGH-LEVEL JET STREAK WILL SPREAD NORTHEASTWARD FROM
THE FOUR CORNERS AREA TO THE MIDDLE MO VALLEY LATE TONIGHT WHILE THE
BASE OF THE TROUGH REMAINS CENTERED OVER AZ/NM. A FRONTAL BOUNDARY
CURRENTLY EXTENDING NORTHEAST-SOUTHWESTWARD ACROSS THE UPPER
MIDWEST/SOUTH-CENTRAL PLAINS WILL MAKE A SLOW SOUTHEASTWARD
PROGRESSION AND REACH THE LOWER MO VALLEY/ARKLATEX VICINITY LATE
TONIGHT/EARLY SATURDAY.

...EAST TX/ARKLATEX/LOWER MS RIVER VALLEY...
AS DISCUSSED IN THE PRIOR /13Z/ OUTLOOK...A CONSIDERABLE CAPPING
INVERSION/ELEVATED MIXED LAYER WAS NOTED ACROSS THE REGION IN 12Z
OBSERVED SOUNDINGS FROM CRP/FWD/SHV/LCH IN CONJUNCTION WITH A
RELATIVE ABSENCE OF LOW-LEVEL MOISTURE. NONETHELESS...PERSISTENT
SOUTH-SOUTHWESTERLY WINDS IN THE LOW LEVELS WILL CONTRIBUTE TO THE
NORTHWARD TRANSPORT OF A MARGINALLY MOIST AIR MASS THROUGH TONIGHT
AS LOWER 60S F SURFACE DEWPOINTS BECOME INCREASINGLY COMMON ACROSS
EAST TX WITHIN THE WARM SECTOR AHEAD OF THE SYNOPSIS-DESCRIBED
FRONT. ALTHOUGH THE PRIMARY UPPER FORCING FOR ASCENT WILL BE FOCUSED
WELL WEST AND NORTH OF THE REGION /LAGGING THE FRONTAL
ZONE/...SUFFICIENT MOISTENING/WARM ADVECTION IN CONJUNCTION WITH THE
SOUTHEASTWARD-PROGRESSING FRONT SHOULD SUPPORT THE DEVELOPMENT OF
ISOLATED TO WIDELY SCATTERED THUNDERSTORMS TONIGHT. THESE STORMS
WILL TEND TO BE AT LEAST SLIGHTLY ELEVATED. WHILE OCCURRING WITHIN A
HIGHLY SHEARED ENVIRONMENT...HAIL POTENTIAL WILL LIKELY BE LIMITED
BY WEAK LAPSE RATES AND MODEST SOURCE REGION BUOYANCY WITH MUCAPE
GENERALLY LIMITED TO 500-1000 J/KG.


Read more
Posted: December 26, 2014, 7:58 pm