Welcome to National Carriers - the"Elite" Fleet®
NCI Company News
National News
Fox Sports
Books
Faster Truck News
OIG Highway Admin
Entertainment News
Movie News
Yahoo® Truck News
National Weather
SPC 2000Z Day 1 Outlook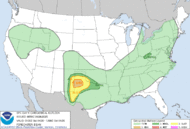 DAY 1 CONVECTIVE OUTLOOK  
NWS STORM PREDICTION CENTER NORMAN OK
0248 PM CDT TUE JUL 29 2014

VALID 292000Z - 301200Z

...NO SVR TSTM AREAS FORECAST...

...SUMMARY...
GENERAL STORMS EXPECTED INTO TONIGHT ACROSS PARTS OF THE
WEST...SOUTHERN GREAT PLAINS...FLORIDA...AND THE GREAT LAKES.

...WI...
SCATTERED LOW-TOPPED STORMS HAVE FORMED ACROSS NRN WI WITHIN A
MEAGERLY BUOYANT AIR MASS AMIDST SURFACE DEW POINTS ONLY IN THE 50S.
WITH NWLY SURFACE WINDS LIMITING 0-6 KM SHEAR TO AROUND 20-25 KT PER
DLH/GRB VWP DATA...THE DEGREE OF CLOUD-BEARING SHEAR IS UNLIKELY TO
SUPPORT UPDRAFT INTENSITIES REQUIRED TO PRODUCE ORGANIZED SEVERE
HAIL. HOWEVER...SMALL HAIL WILL REMAIN PROBABLE IN THE STRONGEST
UPDRAFTS.

..GRAMS.. 07/29/2014

.PREV DISCUSSION... /ISSUED 1117 AM CDT TUE JUL 29 2014/

...SYNOPSIS...
AN UPPER TROUGH WILL REMAIN IN PLACE OVER THE ERN U.S. THIS PERIOD
/S OF A PERSISTENT VORTEX CENTERED INVOF JAMES BAY/...WITH AN
ASSOCIATED/BROAD AREA OF CYCLONIC FLOW OVER MOST OF THE AREA E OF
THE ROCKIES.  MEANWHILE...AN UPSTREAM RIDGE WILL PERSIST ACROSS THE
WEST.  

AT THE SURFACE...A COLD FRONT OFF THE E COAST -- TRAILING WWD ACROSS
FL AND THE NRN GULF AND THEN TURNING NWWD ACROSS TX AND INTO THE
ROCKIES -- WILL MOVE LITTLE...AS THE PARENT UPPER SYSTEM REMAINS
QUASI-STATIONARY.  SHOWERS AND THUNDERSTORMS WILL ACCOMPANY THE
FRONT...WHILE ALSO INCREASING IN COVERAGE WITHIN THE
ASSOCIATED/POST-FRONTAL UPSLOPE FLOW REGIME OVER THE HIGH PLAINS. 
LOW-TOPPED SHOWERS AND ISOLATED STORMS WILL ALSO AFFECT THE GREAT
LAKES REGION...WHERE SOME HAIL WILL BE POSSIBLE WITH THE STRONGEST
CELLS LATER THIS AFTERNOON.

...WI VICINITY...
SHOWERS AND SCATTERED THUNDERSTORMS ARE FORECAST TO DEVELOP/SPREAD
SSEWD ACROSS WI THIS AFTERNOON...AS DIURNAL BOUNDARY-LAYER HEATING
PEAKS BENEATH COOL MID-LEVEL TEMPERATURES /AROUND -16 AT H5/ --
YIELDING MODEST /AROUND 500 J/KG/ MIXED-LAYER CAPE.  WITH MODERATE
MID-LEVEL NNWLYS SUPPORTING 25 TO 30 KT 0-6 KM BULK SHEAR...A FEW
CELLS MAY BRIEFLY ACQUIRE SUFFICIENT INTENSITY TO PRODUCE HAIL --
POSSIBLY APPROACHING SEVERE LEVELS -- BEFORE CONVECTION DIMINISHES
THIS EVENING.


Read more
Posted: July 29, 2014, 7:52 pm
No watches are valid as of Tue Jul 29 19:53:01 UTC 2014.
Posted: July 29, 2014, 7:52 pm
No Mesoscale Discussions are in effect as of Tue Jul 29 19:53:01 UTC 2014.
Posted: July 29, 2014, 7:52 pm